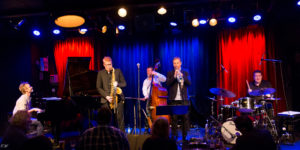 The last years I've had the pleasure to play with many of the musicians I've been listening to for years, and the ones who has been my big inspires!
After a couple of gigs in big band constellations, Dan Johansson and I decided to start a small group together. In January we did the first concert on Jazz club Fasching in Stockholm, and I found myself on a concert playing with some of my idols! It was great fun to play together with Dan, Torbjörn Gulz, Kristian Leth and legendary bass player Palle Danielsson!
Right now we are working to get a tour together this autumn, and I know we will get it together! It will be a pleasure to do this tour with these amazing musicians!
Bandpresentation (Svenska)
Please ask for English version!