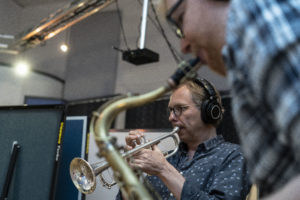 The work continues in many ways! We've been working a lot with Dölerud Johansson's new album, and we are really looking forward to release it later this autumn at a concert in Stockholm! I come back with the date!
It's been a great pleasure to produce this album together with amazing musician and fantastic co-band leader Dan Johansson! Tack, Danne!! We let you know about upcoming concerts, and of course about release date!
19th of November we will make a premiere concert at Jazzclub Fasching with a new big band based in Stockholm. This band is lead by Erika Hammarberg and Lina Lövstrand, and we will play mostly Erika's beatuful compositions. This night we will also have Magnus Lindgren as guest! Listen to her music at pianoerika.se
I will do a couple of concerts with the Glenn Miller Orchestra this autumn, we are going to play with Håkan Broströms New Places Orchestra together with Ebbot Lundberg, and when we come to December there will be a lot of traditional christmas concerts…
So, there's a lot of fun concerts and projects coming up! And like always you have to plan for the upcoming season. Hopfully I can get some tours together with my Finnish, Norwegian and Danish friends. The Work Continues..!